For many women around the world, the best Mother's Day gift they could possibly receive is contraception. This may sound like a punchline from a comedian, but I've learned firsthand how true that is.
Earlier this year, I had the privilege to travel to Ethiopia and meet women and girls taking part in Born on Time programming. Although some were shy, a lot of the women had so much to say, and I was grateful that they felt comfortable enough to share their stories, especially about topics that some may consider sensitive, including contraception.
They spoke of how family planning and contraception made a difference in their lives. I can certainly say it has made a positive impact in mine.
By the time I was an adolescent, I was well-informed of my options for contraception. In addition to a smattering of often inaccurate sexual information from my friends, I was fortunate enough to have access to credible information about sexual health from library books, health websites, and clinics. In high school, I went to see the doctor who prescribed me oral contraceptives and advised me on the use of condoms to prevent pregnancy and catching any sexually transmitted diseases.
My husband and I had already discussed family planning and what we wanted our family to look like prior to getting married. As we had hoped, I got pregnant and had our first child the following year. We used contraception to delay my next pregnancy so I could focus on caring for one baby and doing well at my new job until we felt ready for the next baby, which happily happened two years ago.
When I think about my conversations with the women in Ethiopia, I recognize my privilege. I had a variety of places to get accurate information about sexual and reproductive health, as well as easy access to contraception.
According to the United Nations, in Canada, 66.1% of women of reproductive age (WRA) use a modern method of contraception. The numbers of WRA using a modern method of contraception varies greatly in Ethiopia (25.7%), Mali (14.0%) and Bangladesh (46.5%).
Living in Canada, I had access to sexual health information and services, so I was equipped to make decisions for myself and about my body – if, and when, I wanted to be a mother. All women should be able to say the same. But in many places around the world, gender inequality continues to affect the health of women – and in communities across Ethiopia, Mali, and Bangladesh, Born on Time is working to make a difference.
Meet Tenagne in Ethiopia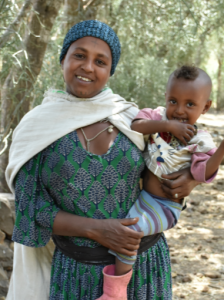 Meet Tenagne. She's 25 years old, living in south Gondar, Ethiopia, with her husband and two young children. In her community, Born on Time established a women's dialogue group to provide a safe space where women could help empower each other. The group is facilitated by a peer-leader who has been trained to lead educational discussions on topics like maternal and child health, prevention of intimate partner violence and family planning. In this group, women support each other to overcome barriers to translate their newfound knowledge into action.
"Women are wiser now. We discuss how we should get contraception right after the christening of our child," says Tenagne. "We don't want another baby while nursing the one we just gave birth to. We tell each other that our babies will not thrive if we have more before the current ones have had a chance to be well fed."
Tenagne's participation in the women's dialogue group has helped improve her marriage, her health, and baby's health.
She shares, "My husband has also changed. He is convinced that we should wait to have another child because we want our little boy to be strong enough. You see, I had a stillbirth a few years back. My husband and I still feel the pain. We don't want to lose another child."
Meet Aboubacar in Mali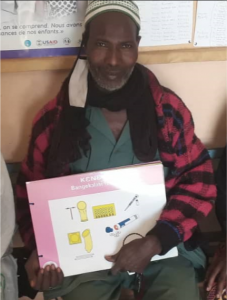 In Mali, we meet Aboubacar. He is 54 years old, married, with four children living in the village of Kouoro Barrage. He is also an imam who used to be opposed to women using contraception and preached against it at the local mosque regularly.
In many rural areas like Kouoro Barrage, promoting contraception is interpreted as an offense against the will of God. That is, until community health workers, supported by Born on Time, worked with religious leaders like Aboubacar to challenge socio-cultural norms that promote gender inequality.  In Born on Time male engagement sessions, led by imams, men discuss topics such as contraception, family planning, women and girls' empowerment, joint decision-making, male participation in household chores and childcare, as well as the importance of prenatal and antenatal care visits for pregnant women.
Reflecting back on his views prior to Born on Time, "I think I have done a lot of harm to humanity for not accepting the use of contraception by couples," confessed Aboubacar.
He has since become a champion of the cause.
"I will educate other imams and we will promote contraceptive use by couples as a family planning method. Contraception allows couples to plan when they want to have children and ensures that mothers and their children in good health."
Meet Aktara in Bangladesh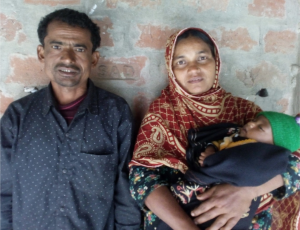 In a small village in Bangladesh, we meet Aktara.  She is 31 years old, married, with three children.  Aktara had some health issues and was not ready to have more kids. Unfortunately, her concerns were dismissed by her husband, Saiful, who believed that using contraception was a sin.
To get some support, Aktara spoke with her community health worker, Jasmin, who was part of the Born on Time program. Moshfiqur, a member of a Born on Time fathers' group, teamed up with Jasmin to speak with Saiful and dispel some misconceptions. They quoted from religious books to explain how family planning and contraception is not against their religion. They discussed the negative health impacts to mother and baby of getting pregnant again too soon, including the risks for, and impacts of, preterm birth.
Thankfully, Saiful was convinced. He and Aktara engaged in family planning and chose a modern contraceptive method. They continue to share their experience and knowledge within their community.
"Followed by effective counseling, my husband realized his faults and changed his mindset. Now, I am happy with our married life," says Aktara. "I am really grateful to Born on Time."
Providing family planning education and access to contraception are just some of the ways Born on Time is supporting women and girls in Bangladesh, Ethiopia and Mali.
Born on Time works to strengthen health systems to be more responsive to the specific needs of women and adolescent girls and their male partners by training health care providers with gender-responsive and adolescent-friendly sexual and reproductive health services. Education includes skills training on how to administer various contraceptive methods. Born on Time is also setting the example of how gender transformative and rights-based health programs can be designed, implemented, measured, and monitored to achieve sustainable impact.  In line with WHO recommendations, Born on Time also educates men, women, boys and girls on the importance of delaying pregnancy until after 18 years of age and spacing pregnancies by at least two years.
Around the world, the impact of contraception on the lives of women, adolescent girls and their families is significant. Family planning education and the use of contraception helps empower women and adolescent girls to make decisions about their health and their bodies; what they want their families to look like; and when they are financially or physically ready for their next child. Family planning and contraception can also reduce infant deaths and present opportunities for women to pursue additional education or employment.
Family planning and contraception helps women and adolescent girls, if, and when, they decide they are ready, to become healthy mothers with healthy babies that are Born on Time. And that's certainly something every mom, including myself, wants for Mother's Day.
by Andrea Arrogante, Born on Time Communications Lead, World Vision Canada