At Born on Time we spend a lot of time partnering, supporting and celebrating pregnant women as they prepare to become mothers. Their well-being is key not only for their children but fundamental to realizing their own aspirations and dreams.
Today, on Father's Day, let's also celebrate the importance of fathers and recognize how their engagement in the health of their family is supporting women and helping babies to be born on time.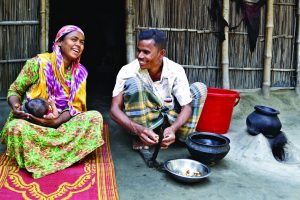 The engagement and support of fathers and male partners is fundamental during the COVID-19 pandemic: by providing support to pregnant women and new mothers, accompanying them to seek medical care to support their pregnancy, supporting their decision to give birth in a health facility and to receive post-natal care for their newborn babies – all amidst lockdown measures. It is also crucial for fathers and male partners to act as champions of gender equality in their homes and communities, and spread the message against domestic violence, which has increased exponentially during the COVID-19 lockdown in many contexts.
Born on Time, a public-private partnership dedicated to helping prevent preterm birth in Bangladesh, Ethiopia and Mali, has many important elements to it, including engaging men in the continuum of maternal, newborn and child health care. Household work and childcare responsibilities have typically been and are still considered to be women's work, whereas productive/income earning work is traditionally/culturally assigned to men. These gendered divisions of labour are part of the discriminatory social norms which Born on Time is addressing by promoting the responsibility of both partners in household chores and child care. This is particularly true while women are pregnant, since a heavy workload can lead to complications for both the woman and baby, including preterm birth.
How Born on Time engages men
One of the ways Born on Time engages men is through Fathers' Clubs. These groups help grow awareness among fathers about the importance of pre- and post-natal care for their wives and babies, delivering at a health facility, as well as good nutrition and healthy lifestyles to prevent preterm birth. Fathers' Clubs are helping transform the way men understand their roles within their families, including the social position of the women in their lives. They are coached to share household chores and childcare responsibilities, and to use non-violent means when family issues arise, all of which can have a lasting positive impact on their wives and the family as a whole.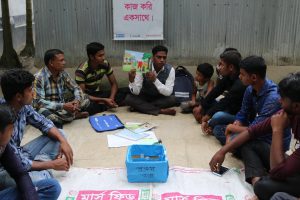 Meet Abdur Rauf
Abdur Rauf, profiled in a video about Born on Time, is the Imam of Baitun-nur Jame Mosque in Gangachara, Rangpur, in Bangladesh. Through his efforts to educate himself about healthy pregnancies and births, he's also encouraging other men to follow his lead.
When speaking about the Fathers' Clubs, Abdur said, "At that time I knew nothing about pregnancy or newborn care and was fully ignorant about preterm birth. But the situation has changed now. Like me, the other men in the community have also become aware."
Abdur continues to positively influence his community by increasing awareness about other preterm birth contributing factors like unhealthy lifestyles and lack of access to contraception. "I have motivated several husbands in my area to accompany their pregnant wives to the health centre for regular checkups. I also raise awareness to stop child marriage and advise people to adopt family planning methods. I myself have adopted family planning methods."
Through Fathers' Clubs sessions, fathers are educated on the importance of supporting their wives in household chores and childcare responsibilities, providing nutritious food, and making joint decisions to adopt contraceptives, as well as decreasing domestic violence.
By continuing to actively engage men through initiatives like Fathers' Clubs, both men and women will be better equipped to prepare for healthier pregnancies and births.
To fathers like Abdur and all fathers who are helping their wives have healthier pregnancies and their babies to be born on time, we wish a very happy Father's Day!
With a focus in Bangladesh, Ethiopia and Mali, Born On Time is the first public-private partnership to prioritize the prevention of preterm birth, now the leading cause of death in children under five globally. This five-year initiative brings together expertise and resources from World Vision Canada, Plan International Canada, Save the Children Canada, the Government of Canada and Johnson & Johnson to help ensure every child is born on time.
By Alison Gareau, Senior Manager, Advocacy Communications, Plan International Canada