The onset of COVID-19 at the beginning of 2020 has forced a global shift in how people act, think and feel about the future. What hasn't changed is the fact that preterm birth is still, globally, a leading cause of death for children under five, and that Born on Time's work must continue.
Here are some stories of brave frontline workers whose commitment to preventing preterm birth through Born on Time is constant, even through a global pandemic.
Moushumi, from Bangladesh
Moushumi is a health worker in the Rangpur district of Bangladesh and is a staunch advocate for the rights of women and girls. Fully engaged in her community, she also works with various levels of local government to prevent violence against women and stop child, early and forced marriages.
As part of Born on Time programming to prevent preterm births, Moushumi teaches pregnant women about the importance of antenatal and postnatal care, delivering at a health facility and family planning methods. She is also often found speaking to elderly women and mothers-in-law about the importance of reducing the workload of pregnant women; engaging husbands in maternity care, sharing of household and child care responsibilities, and increasing women's decision-making power; teaching about healthy eating habits; and other factors that contribute to preterm birth.
Moushumi works tirelessly for her community and the fruits of her labour are evident in the higher rates of antenatal care (ANC) visits and a reduction in home births in her area. From April to August 2020, 90 health facility deliveries were conducted and 425 pregnant women received ANC services in her village.
She also helps arrange social services support for the needy and fundraises for special situations that don't qualify for government support, such as specialized medical treatments for individuals or crises that arise in her community.
"Under the Born on Time project, I created a network of support – mothers, adolescent group leaders, male supporters, parents – so that no woman feels alone and knows they can go to someone should they find themselves in danger."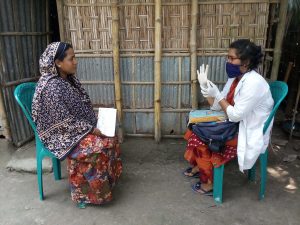 During the pandemic, Moushumi's duties have expanded to working with the Union Parishad (local government unit) and other NGOs to make sure that the vulnerable women and children in the community receive the food and supplies that they need. She also organizes a group of volunteers to spray disinfectants in the villages to prevent the spread of COVID-19.
"I visit them and explain why they should use masks, wash their hands, and why they need to take special care of mothers during this pandemic," she says.
Belaynesh, from Ethiopia
Belaynesh is a health extension worker in the Amhara region of Ethiopia who works tirelessly to support pregnant mothers and their families in her community. At her health post, she sets up women early in their pregnancies for their prenatal appointments, identifies the health centre where they will deliver their babies, and provides counselling about nutrition, personal care, hygiene, well-being, and family support.
Most of the pregnant women in her care don't have regular access to vehicles, so Belaynesh found a solution to make it easier to get to the health centre when it is time for them to give birth.
"I established a community-based referral mechanism where both traditional ambulances and car drivers transport pregnant mothers to health facilities to safely deliver their babies," she says.
While Belaynesh works a lot with pregnant women, she is also an advocate for all females and works hard for gender equality. This includes working with men and various members of her community to create a more supportive environment that promotes and protects the rights of women and girls.  As part of Born on Time programming, she works with school teachers to help them address issues such as child marriage and unintended pregnancies, and with faith leaders to educate their congregations about how to prevent preterm birth and neonatal death in their communities.
Even with COVID-19 restrictions in place, Belaynesh carried on with her work, donning a mask during health consultations and, when facilitating men's engagement groups and women's discussion groups, ensuring the participants physically distance from each other (personal protective equipment is not easily accessible here). Topics discussed in both groups focus on gender equality and the prevention of preterm birth such as addressing gender-based and intimate-partner violence; stopping child, early, and forced marriage; involving males in family health care and helping with household duties; and improving maternal, adolescent, and child nutrition.
Pandemic restrictions have not slowed Belaynesh down. In the photo below, she is running a COVID-19 orientation session informing participants about virus behaviour, signs and symptoms, prevention and care.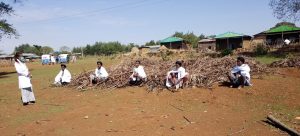 "The people in my community are aware of COVID-19 prevention methods, symptoms of being ill, and how to administer care. They openly share their knowledge with anybody outside their communities," says Belaynesh.
Aminata and Yassangra, from Mali
Aminata, a midwife, and Yassangra, an obstetric nurse, work together in the Sikasso health region in Mali. At their health centre, despite the pandemic, they continue to provide maternal and newborn health services in the communities they serve. There is no typical day in this centre. When not delivering babies, Aminata and Yassangra can be found in prenatal consultations, teaching parents of preemies about Kangaroo care, educating adolescent girls about sexual and reproductive health, or travelling to homes to check-in on the pregnant women in their communities.
They educate the women in their care, and their partners, about the impacts of intimate partner violence on women and girls, prematurity, and the general well-being of the family. Critically important to this piece of work is intentional discussions around intimate partner violence, the consequences of beating women at any point in time, and particularly while pregnant. "We encourage husbands to be gentle with their pregnant wives and to accompany them during pre- and post-natal checkups."
Along with regular Born on Time program work on the prevention of prematurity, Aminata and Yassangra also provide families with information on how to prevent contracting COVID-19 to slow the spread of the virus. They are passionate about COVID-19 prevention, enforce guidelines and serve as role models in their health centre.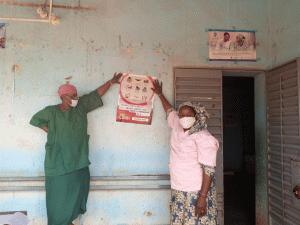 In this photo, Aminata and Yassangra hold up a COVID-19 prevention poster at their maternity ward.
Despite the additional challenges the pandemic has placed upon them, Aminata and Yassangra have not slowed down. "We use our motorcycle ambulances to go into our communities and seek out pregnant women with complications so that we can provide them with the care they need."
by Andrea Arrogante, Born on Time Communications Lead, World Vision Canada